LORD,
Only You can fill that empty place in the canyon of sorrow that has been left in my heart. You are the one constant in my life that can never be lost to me. All else is temporary and changing. I know you are a good God and your love for me is endless. Help me to cast my whole burden of grief on You and let You carry it. Even though there are times when it feels like I can't live through the pain I know you will sustain me. Enable me to get beyond it. I realize life must go on, and I ask You to help me take the next step I need to take today. Even though it's hard to imagine life without the pain I feel, with You all things are possible. Your healing power can restore anything – even my broken heart. Walk with me Lord. I trust You to take my hand and lead me until I can feel Your light on my face and joy in my heart once again.
Amen
Prayer taken from: Just Enough Light for the Step I Am on by Stormie Omartian, Chapter 18, Reaching for God's Hand in Times of Loss.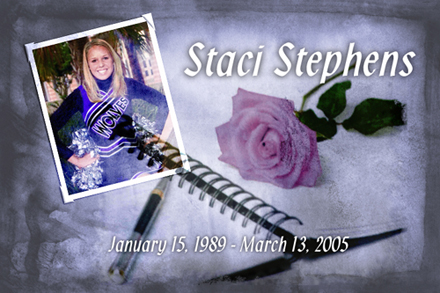 FOR STACI ALEECE STEPHENS, 16, GOD WAS THE CENTER OF HER LIFE, ACTIVITIES
Staci Aleece Stephens was a determined young woman who wanted to help others. A devout Christian, she led a Bible-study group after school and hoped to establish her own ministry. She also tutored elementary school students. The part-time job allowed her to interact with younger students – and to pay for her own car. "When she turned 16 in January, we told her she needed to make her car payment, and she and I put together a tutoring business," said her mother, Kristen Stephens of Orlando. "She had enough money to make her payments through June."
Staci, who had hoped to enroll in a leadership program with Campus Crusade for Christ, died Sunday from complications of Viral Myocarditis - A viral infection that enlarged her heart. Despite the unexpected illness and fatigue during the past two months, the high-school sophomore continued cheerleading and even did extra credit work at Timber Creek High School, where she was an honor student, Stephens said.
"She did extra credit in all her classes," Staci's mother said. "She was in a gifted program in middle school and attended honor classes in high school. She loved working with freshman cheerleaders and leading a Bible-study group after school. Her favorite thing was reading the Bible and studying passages."
Staci was involved in Student Venture Youth Ministry programs and was actively pursuing being part of the Servant Team, which helps develop leadership skills as part of Campus Crusade for Christ.
While attending a Student Venture conference a year ago in Cocoa Beach, Staci was reborn and redirected her life, her mother said. "This past January, she was re-baptized at the same conference on her birthday," Stephens said. "She wanted to create a unique ministry, one where she could reach out to the people. She was trying to save the world, basically."
Staci also was athletic. She began taking karate when she was 6 and became a second-degree black belt. In middle school, she was a member of a science explorers group and became a certified scuba diver. "She really enjoyed doing different things. She was constantly coming home every day wanted to do something else," Stephens said. "That's just the way she was."
Staci was a member of the Timber Creek Wolves freshman and junior varsity cheerleading squads. She also was on the track team as a freshman. Staci also is survived by her father, Barry Stephens; brother Kevin Stephens, both of Orlando; and her grandparents.
North Brevard Funeral Home, Titusville, is handling arrangements.
In January 2007, Staci's headstone was placed at Oaklawn Memorial Gardens in Titusville. At the gravesite, the main headstone contains a cross and heart that reflect Staci's love for Jesus. A birthday cake, flowers, bubbles, and crosses in Staci's own handwriting decorate the headstone. A grave ledger resembles a page of her journal reflecting several of Staci's favorite bible verses along with her reflection "I am confident that God Speaks when I Listen". A cozy bench with heart-shaped legs display "I Love Jesus" and "Why Worry? Let Go, Let God." On the top of the bench is Staci's famous saying "Sometimes I Just Like to Talk to God 'cuz He Rocks My World." Finally, the most touching of all is "Well done my good and faithful servant" Words we know Staci has heard daily from Jesus himself!
Pictures of Staci's Headstone done in her own handwriting captured from her journals
Staci is buried at:
Oaklawn Memorial Gardens
2116 Garden Street
Titusville, FL 32796
(321) 267-8751
Directions to Gravesite: Go left into the cemetery, follow the main entrance road and take your first left. Follow that road around the bend (it bears right) and take your next left to the cul-de-sac. Facing the cul-de-sac, look to your left (South) and her gravesite is about 20 yards away.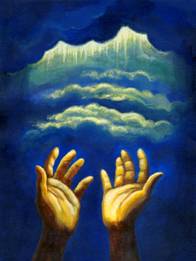 Staci Stephens Funeral Service was filmed and produced by Tony Alvarez of 404 Films and Videography. The Stephens family are very Thankful and grateful for the work of 404 Films and Videography. If you are interested in utilizing their services, please visit their web site at www.404Films.com.
Also, Staci's funeral service was held at Orlando Baptist Church. Staci was very close to Janae Schirle and her family. Mr. Schirle was the Sr. Pastor at this church. The Stephens family is grateful for allowing us to use the facility to have Staci's funeral. Thank you so much! To learn more about Orlando Baptist, please visit: www.orlandobaptist.com.
If you would like to watch Staci's funeral, please click here:
Forever (Michael W. Smith)
Amazing Love (Billy James Foote)
Draw Me Close (Kutless)
I Can Only Imagine (Mercy Me)
Enough (Chris Tomlin)
Awesome God (Rich Mullins)
Here I am to Worship (Tim Hughes)
You are Holy, Prince of Peace
All Other Ground is Sinking Sand
On Monday night, March 14, Student Venture held a memorial service for Staci. The service was one of the most unbelievable and powerful messages ever given to High School students. Over 800 students, faculty, family, and friends attended this service to honor Staci who had passed away just one day before. The Band, Tenth Avenue North (www.tenthavenuenorth.com) performed worship songs and several of her friends spoke of Staci's love for Jesus. At the end of the service, people approached the front of the stage to accept Christ in large numbers. This service will forever leave a permanent mark on Timber Creek High School and her family and friends.
Renee Yohee wrote a poem and gave a speech that is very special to the Stephens hearts. She read it at the Memorial Service on Monday night. Thank You Renee! This is what it said:
Ecclesiastes 3:11
"He has made everything beautiful in His timing." Everything.
God has shown me in my life that He can work through the mess, He can take a tragedy and bring glory to His name. Someone asked me why there is pain and suffering. I believe they exist so we can know joy and peace. If there was no pain in this world it would be perfect, we would have no need for anything more. But, this world is not all there is. We suffer here, and therefore our hearts long for His healing, His peace. We long for a home filled with unfathomable beauty, we long for Heaven. We can be healed, we can find peace in Him. Staci had that, and it was evident in all she did, and so tonight, we are here to celebrate her life.
The angel spread her wings 
and flew down from heaven
to kiss your eyes shut for one last time
as you lay in sheets,
lay in a room white pure,
like your heart,
bright like your smile
she whispered soft into your ear a message
He sent
"Well done my good and faithful servant"
it fluttered inside of your precious body
your heart began to dance
and she lifted it up back into His hands.
And the tears that fall and the hearts that ache
He too wants to take
"Peace I leave with you;
my peace I give you
I do not give to you as the world gives.
Do not let your hearts be troubled
And do not be afraid."
So take the calm
let it stay
be still
and know.
Know that she is singing now
know that she will dance
because the angel came and
brought her back into His hands.
Student Venture video taped the memorial service held at Timber Creek High School. If you would like to view it, click here: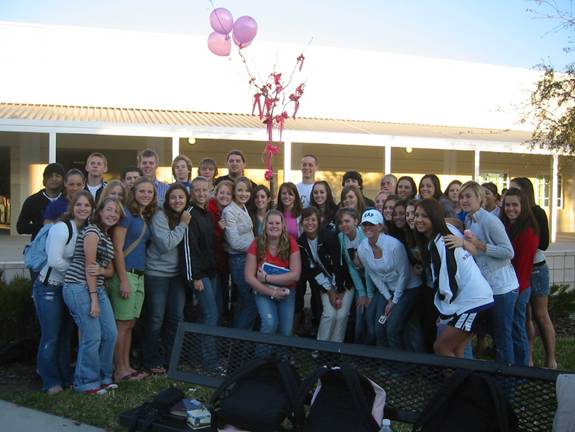 Staci - I miss you so much. We all miss you so much.
I am so heartbroken and sad. All my friends want the "old" me back. Well, it's gone. I am a new and improved me with God's help. Thanks to you, You showed me a God that can improve me to no end – even after losing you – the most saddest day of my life – and saddest year – I am seeing a God that won't quit and that loves me and that is working through me to tell your story. There are so many kids here today that are telling your story too.
I really miss you. I miss so many things we used to say and do:
Talking about Luis, boyfriends, and staying pure until marriage
Talking to you about Student Venture activities
Telling you and Ashley that you should have a boyfriend and you said why?
Discussing how you were passionate about Your ministry
Helping you set up your tutoring business and watching you excel in it
Keeping Frankie clean along with your room – every Wednesday
Picking out the best dog in the whole world who has a personality like you – everybody loves him and he loves everyone – Is your spirit inside him?
Going to cheer games – cheer camps and hanging out with the vert
Disturbing you when you were having quiet time – just sat there with you and talked even though you were having your time. I just wanted to be around you.
Going to Jazz band concerts and listening to you play songs in Middle school – I miss the clarinet and most of all the saxophone
Going to karate tournaments
Going to scuba diving lessons and your trip to Channel Islands
Going to track meets in middle school and high school – watching you run so beautifully. You made it look so easy
It has been a very long hard year. As I look back though, joy comes to my heart. There is so much GOOD that has happened, GOD has used your Death as an inspiration to so many:
A video depicting your life – The Staci Stephens Story – has been released worldwide and handed out to every TCHS student here at school.
I walk around with a picture of You on my shirt – are you embarrassed? I'm sorry, it's just that I love you so much.
Numerous outreaches to High School kids – showing your DVD
To see how many have Accepted Christ because of you?
You met my dad with open arms on Feb 15 in Heaven – who could ask for anything better than that!
All the www.stacistory.com Website hits – there are so many of them
We have given out over 27 scholarships in your name
Thanks for leaving Your journals of faith – I can't wait to publish them.
For Christmas, your grandmother got me this Angel calendar. I flip it over every day and read about angels. Well, my curiosity got the best of me and I flipped to March 13 and here is what it read:
All in the Wild March Morning
I heard the Angels call
It was when the moon was setting
And the dark was overall
The trees began to whisper
And the wind began to roll
And in the wild march Morning
I heard them call my soul.
WOW, I'll bet that is what happened exactly one year ago. You heard the angels call and you went home.
Stac - You left a legacy – Wow, you are our role model. Now we know what to be like – you gave us a great example of how we should be, how we should live, how we should die.
You died on March 13 as a true-blooded Christian. You journaled, had quiet time, studied scripture, read the bible, spread his word, but most of all you loved God and Jesus Christ was your savior. You demonstrated what we needed to see – how to love God. That's all - Simple Childlike and innocent.
Thank you for showing us a God that won't quit, a God that is passionate, caring, loving and Good. For if we didn't have GOD, we could not live in this world without you. God is our strength and you showed us how to live for Him.
Thank you Staci for the best 16 years anyone could ask for. We miss your smile, your cute laugh, your happy go lucky personality, and your love for everything and everybody. We miss your wonderful outlook on your life, how you saw the best in everything. I could go on and on about you and how much I miss you but that would take me forever to do.
I love you so much and I miss you so much. Until we meet again, I love you!
Momma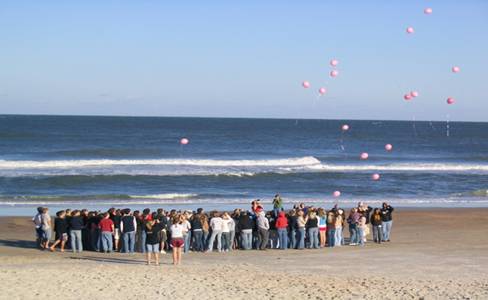 Dear Staci,
Wow, January 15, 1989 at 7:11 AM – the birth date of You - Staci Aleece Stephens - God blessed us with YOU! When you were born, it was clear we have a loving GOD. Your birth was perfect. You were the textbook pregnancy, labor, and childbirth. Twelve hours of labor, no one in the labor and delivery room – Just me, Dad and YOU. It was like GOD made your birth special where it was all about YOU. Little did we know that we would only be Blessed by YOU for 16 short years. But GOD knew, that's why he created you and blessed our lives with YOU.
Around your due date to be born, Your Grandparents, Barry and Kathy, were coming to visit and could only stay for a couple of days. They came, hoping you would be born when you were supposed to! It worked! God came through! You were born when they were here. The first grandchild on your Daddy's side, WOW what a blessing – Also, You were named after your Grandpa Stacy – but your daddy had to change the spelling – it had to be S-T-A-C-I so we could put a Heart over your "I."
Little did we know – on the day that we named you and filled out your birth certificate - that your Heart would be the most special thing about YOU. Now we know, The heart over your name was significant in so many ways. Your heart was the most important thing about YOU. It was also the thing that took YOU away from us.
You were so wonderful. You were the best kid ever. You took care of your brother, raised yourself, you loved dolls, loved Beanie Babies, loved friends, loved to have fun, but most of all – YOU Loved GOD with all your heart.
You obtained all A's almost all of the time, was Vice President of your fourth grade class, played the Saxophone, clarinet, and a became a Second degree black belt. You ran track, tutored kids, were the BEST babysitter! , worked in Sunday School class with the kids, and picked out the Best Dog EVER, GIZMO --- in the world!. But most of all – YOU Loved GOD with all your heart.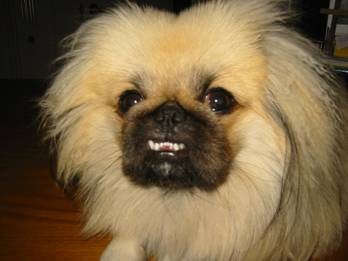 In January of 2004 You accepted Christ and lived the Christian life daily. Wow, You were my role model. What a great thing for a kid who is a Freshman and Sophomore in High School. No many kids your age did what you practiced daily. You resisted peer pressure, drugs, alcohol, and sex. You wanted to be a virgin when you married. You truly lived the Christian life.
Usually, the parent is the role model for the kids – not true in our case – you were our role model. Wow! What a loving GOD we have!
Also, In June 2004, you came back from Getaway a changed KID. You truly lived like you were a child of GOD. I remember picking You up from sharing your testimony one night after a bible study and you telling me, " I really FELT GOD" He was so in the room." Wow, You truly showed us – You Loved God with all Your heart. Yet, your heart is what took YOU away from us.
In your journal you prayed for your own ministry, not a copy of anybody else's – I hope we are doing OK – your Unique ministry is thru student venture, us and your website. We promise to continue sharing your story to anyone that will listen. We are sharing your story and trying to keep your faith alive with so many people – students, adults, coworkers, family and friends. Your ministry is incredible! Your DVD is awesome! You lived the role model Christian life and you died as a Christian. What a legacy - You left us with journals of your faith too, THANK YOU!
Some of your prayers that are inspiring to us include: Let me run for you, let me cheer for you, let me sing for you, and let me dance for you GOD. I want it to be for you GOD and nobody else Lord. You hear me, you see me, you feel me, and you answer me. God, That is so awesome.
And.. Yet I am always with you, You hold me with your right hand. You guide me with Counsel and afterward You will take me into Glory. Whom have I in heaven but you and earth has nothing I desire but you. My flesh and my heart may fail but God is the strength of my heart and portion forever.
Your words of wisdom from Fastbreak last year:
God has given me the best answered prayer:
A feeling of feeling beautiful when he thinks I am most beautiful;
A feeling of confidence and security without makeup
I'm not crying because I am ashamed anymore
I am crying out of pure Joy and Thanks – because of His Love.
Thank You Father for one of the best life lessons – Fastbreak January 2005.
And most of all your favorite bible verse:
And I am convinced that nothing can ever separate us from his love. Death can't, and life can't. The angels can't, and the demons can't. Our fears for today, our worries about tomorrow, and even the powers of hell can't keep God's love away. Whether we are high above the sky or in the deepest ocean, nothing in all creation will ever be able to separate us from the love of God that is revealed in Christ Jesus our Lord.
Staci, in closing, I want to thank you for the best life lessons. You are our daughter, sister, grand daughter, cousin, niece, but most of all you are our friend. Your special smile, laugh, personality, and grace will forever be in our hearts. We all miss you so much. We want to thank you for showing us a GOD that won't quit, a GOD that is passionate and caring, loving and good. Please watch over us as we attend the conference and we hope you have a Great Earth Birthday in Heaven. We only wish you were here to celebrate your Birthday with us but we know you are having a better time.
I wear a heart necklace and the heart has a Hole in it and this is the poem that came with it:
Since Heaven has become your home we always feel alone And though we now are far apart You hold a big piece of our heart. We never knew how much we'd grieve When it was time for you to leave Or just how much our heart would ache From that one fragment you would take. God lets this tender hole remain Reminding us that we will meet again And one day all the pain will cease When He restores this missing piece. He'll turn to joy our every tear And when we say your name my dear This will become our simple way To treasure our reunion day.
Staci, Thank you for showing us how great our God is. For if we did not have GOD, we could not live in this crazy world without YOU. God is our strength.
Staci, Thank you so much for the great memories and we love and miss you so— Until we meet again--
Love Momma, Dad, and Kevin and all your friends and family…
Dear God, Thank You for Staci. Help us to be more like her. Help us to get through our lives on Earth so we can live in eternity with you and Staci. Ease our pain and suffering on dealing with the loss of Staci, help us to spread your word, and help us to resist peer pressure, help us to follow you.
This is a prayer from "Just enough Light for the Step I am on" where God gives us just enough light for that day:
God, Only You can fill that empty place in the canyon of sorrow that has been left in our heart. You are the one constant in our life that can never be lost to us. All else is temporary and changing. We know you are a good God and your love for us is endless. Help us to cast our whole burden of grief on You and let You carry it. Even though there are times when it feels like we can't live through the pain we know you will sustain us. Enable us to get beyond it. We realize life must go on, and we ask You to help us take the next step we need to take today. Even though it's hard to imagine life without the pain we feel, with You all things are possible. Your healing power can restore anything – even our broken hearts. Walk with us Lord. We trust You to take our hand and lead us until we can feel Your light on our face and joy in our heart once again.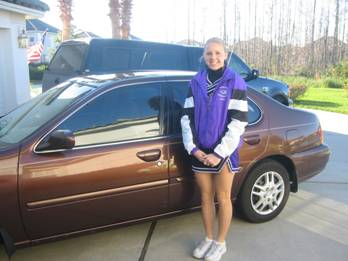 I grew up believing there was a God and Christ existed. When my daughter Staci was born, my husband and I did our best to make sure church was a priority. After the birth of our second son, I became overwhelmed with motherhood and quit attending church as often. When we moved to Orlando, the children were older and we started attending a local Christian Non denominational church.
When my daughter Staci was 14 years old and in the ninth grade at Timber Creek High School, she became interested in Student Venture (the high school ministry of Campus Crusade for Christ.) On her 15th birthday, at a conference in Cocoa Beach, she accepted Christ. From this day forward, her life, my family, and my life changed – or so I thought. I did my best to "fit in" quiet time with the Lord. I wanted to get more involved with knowing who Jesus Christ was based on my daughter and her way of life – her new life. Staci was demonstrating Christian values and I tried hard to be like her.
However, my life changing testimony really began on Sunday, 13 March 2005. On that Sunday morning (and the few days before), Staci was not feeling well with slight flu like symptoms. We thought she was just dehydrated. As she was wheeled back to the ER and I parked the car, God took my beautiful 16-year-old daughter and called her home. We spent hours trying to bring her back and I prayed harder than I ever prayed before. My God, my Jesus, who performed so many miracles for various people in the bible and in the world, did not answer the most precious prayer I have ever prayed. Please, please, please bring my daughter back to me, I prayed loud and vocally in the Code Room of the ER. That sad day, God didn't answer my prayers. However, when Staci passed away from Viral Myocarditis (a virus that caused her heart to swell and destroyed the heart muscle) that day, no one knew what God had in store. 
After Staci died, life was a blur. Based on all that Staci had taught me in her short life, one thing for certain I realized, was that God was the only constant in my life. Additionally, Staci left behind four journals of her faith. She wrote yearly Christmas letters to our family and friends. However, her last one, 2004 was different than all the others she had written. Staci documented her faith to others clearly in December 2004. Along with that, Staci started and attended bible studies at her school, and even prayed constantly for her High School. She always wrote "I Love Jesus" and spoke of her faith to Student Venture outreaches and other people and organizations. 
In the midst of Staci's death, so many things have been great. It has been such a bittersweet 15 months. Staci was my best friend. She was my daughter but really she always was a role model for me. Usually, the parents are role models. Not in my case. We were so close and I just can't believe that she is gone. I was so lucky to have a daughter and I didn't realize it completely until she passed away.
Staci's life, as I look back, was wonderful. She was loved by everyone, and beautiful on the inside and outside. She was so talented. She was a second degree black belt, played the clarinet, saxophone, ran track, was a freshman and Jr. Varsity cheerleader, tutored, babysat, Honor classes, and was on the honor role in school with all As and Bs. It seems we never had any trouble with her. She basically raised herself with our mature guidance. God gave her so much wisdom too. Students, parents, teachers, and adults were all touched deeply by Staci. Everyone who knew her "felt" the incredible gift that Staci had.
The day after she passed, the school held a memorial service where over 800 students, faculty, and people attended. Staci had prayed that the Timber Creek auditorium would be filled with students hearing about Jesus. Staci's prayer was answered. At this service, we believe over 100 people accepted Christ. At Staci's funeral, over 2000 people came to pay last respects and many were saved again. Staci's most passionate prayer had been answered.
One specific prayer Staci asked for was a one of a kind ministry. Wow, all of us had no idea what God had in store for Staci's unique ministry. For several weeks after hear death, Student Venture meetings and bible studies doubled and quadrupled. Students made T-Shirts commemorating Staci's unique ministry. God lit a fire under this high school. Staci's death was not in vain. Everyone knew of Staci's story.
Additionally, Student Venture had video taped Staci and a number of other kids discussing their faith in May 2004. One very important quote from Staci included, "…A lot of kids know that they are not living the right way and if they say something about it, you know they have a Heart to Change…"
This quote inspired Student Venture to create the DVD: "A Heart to Change – The Staci Stephens Story." This video has won the coveted Silver Telly Award (http://www.tellyawards.com/winners3.php?type=12&letter=v). They also created a Web site http://www.stacistory.com/ and shared her DVD with youth pastors worldwide. Student Venture shows this DVD to various outreaches and has created a wonderful tribute and teaching tool for teens. Staci's involvement with Student Venture has been nationally and internationally recognized. Also, Campus Crusade for Christ has shared Staci's story on Christian radio stations and her story has been printed in local papers.
After Staci's death, I discovered my daughter's "Jesus." I discovered how important Jesus Christ was in my life. I now realized God's plan for my life and my daughters life. God's plan for Staci did not include graduation from High School, college, marriage, or family. Suddenly, Christ became a priority. I was so devastated over my loss that Christ was the only one I felt could heal me. He is the one and only constant in my life. Everything else is subject to change at a seconds notice. The songs, "I could only Imagine" and "Homesick" by Mercy Me took on new meaning.
I immediately began to journal, read, and read the New Testament. Faith is my only hope. There is a hope of seeing her again. My hope is being in heaven with my family of believers
Since Staci died, I have been unable to let her legacy and her story go. During all the group therapy meetings I have attended since she died, I have come to realize how blessed we are. God took our daughter and has picked our family to share his word everywhere. Staci's unique ministry is working through us and her friends and Student Venture / Campus Crusade for Christ.
Also, I have established The Staci Stephens Fund, Inc. A 501(c)3 Non Profit Organization. Additionally, I have created an insert to go in the DVDs that talks more about Staci and other things of importance. Staci's story is so incredible that I cannot wait to share her story with everyone. I want everyone to know her "Jesus," the one I have discovered too. I want to share her story and help others find the hope of Jesus Christ that my daughter and I have found. I want everyone to know Jesus – just like Staci found.
My plans for The Staci Stephens Fund, Inc include DVD mailings to various places, accepting donations, having fundraisers, providing money to kids so they can attend church camps, ministry conferences, and furthering their faith. If kids are having difficulty with their faith, I want to provide funds so they can attend any kind of positive faith changing event. Additionally, I want to assist people with finances during medical treatments due to heart inflammation and other viruses (such as Viral Myocarditis) and heart problems, and finally seek and provide funds to medical facilities that are treating patients with heart inflammation and other viruses and heart problems.
Staci's Viral Myocarditis is a horrible undetected life threatening medical problem. Her symptoms were so normal of the flu and many other sicknesses that mimic flu. One thing we learned was that Viral Myocarditis has a high mortality rate. I went online and tried to find as much information as I could about Viral Myocarditis and have located other families throughout the United States that have suffered from this devastating medical problem. Everyone I have spoken with suffered the same scenario. I have discovered that one percent of American's get viral Myocarditis. I want to contribute as much as we can to prevent other families from going through the pain of losing someone you love so quickly. 
This true personal experience of my life is one that I wish I wasn't writing. I want my old life back. I want my kid back. I want to be back where we were – cheerleading, 16-year-old driving experiences, boyfriends, and bible studies. I want to be a "normal" family. The bottom line is I want her back! However, in all this suffering I have endured, I have realized that my life is not my own. God created me, God has a plan for me, and God is the ultimate decision maker. Who am I to question God? Through the legacy of my daughter, I have found a new faith and hope I never knew that existed in my heart.
So many people who have lost loved ones do not have the hope I have. They don't know "why" their loved one was taken. My heart goes out to all of those people I have met along the way. I can clearly see God's plan for my life and my daughter's life. I know "why" Staci went home to Heaven and why God called her home on that Sunday morning. The hope I receive is evident every day from the emails I receive, the encouragement of fellow believers, and the compassion I receive from total strangers. I am working daily on surrendering everything to God. I am trying to place everything at the foot of the cross.
Staci's story has made such an impact on everyone that comes across her story. Staci's legacy did not end on March 13, 2005. Staci's death is a new chapter and a new beginning for our family. We have completely changed since she died. We have so many different interests and life is so precious. Family time and prayer time for me is so important. God chose a different path for my daughter, my family and me.
Staci's final paragraph of her typed testimony really sums it up:
Through all of the sorrow and trouble, I grew in my walk with Christ tremendously. God puts people in our life for reasons that we can't even imagine; and yet he can take them out in a heartbeat to see our dedication to Him. But in the end, it is always for an awesome reason that we can't see. One thing that I really learned from this experience was being able to surrender everything to God. He gave His life for us, so we should be able to give everything back to Him. It's something that is a lot easier said than done. It just really goes to show that God's ways are truly mysterious. ---Staci
God, Thank you so much for blessing us with one of the greatest gifts you could ever give – a child. Amen.
Staci, I wrote this story in Loving memory of you – my cherished daughter who I love and miss so much that words cannot even identify how bad. All of us can't wait to see you in Heaven - Pure Streets of Gold and constant love. I love you and God Bless! Love, Momma
If you would like to donate to "The Staci Stephens Fund, Inc.," a tax-deductible 501(c)3 Non-Profit Organization.
To donate via Paypal, Click Here: