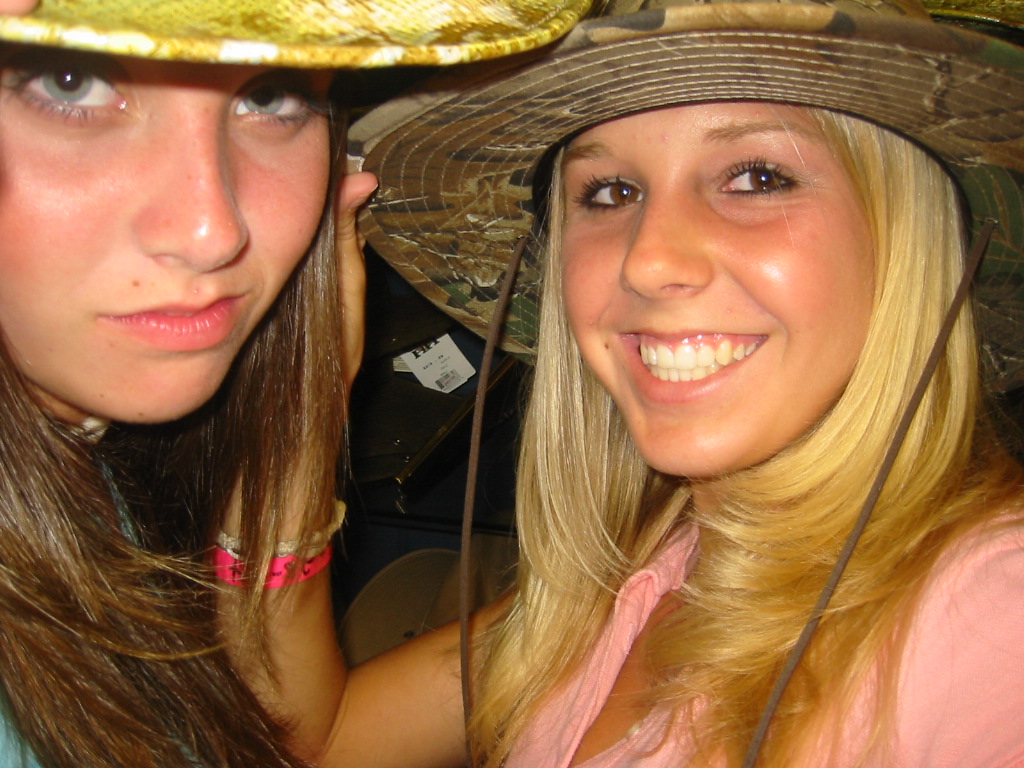 A special thanks goes out to Blake and Amanda Guiles. Amanda was a very special friend of Staci's who went on vacation with us in June 2004. Blake and his company, www.stockdale.net, created stickers and memorabilia in honor of Staci.
For more information about Stockdale, please see the following Web site: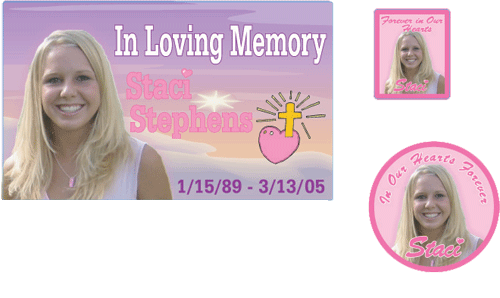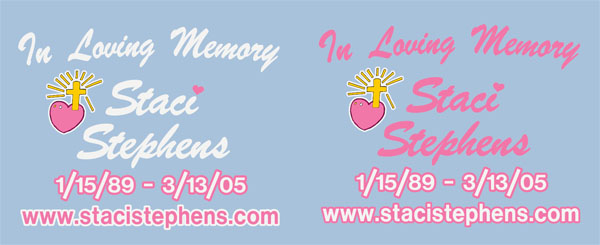 For more information about Stockdale, please see the following Web site:
The Stephens Family created bookmarkers to pass out to people that are intrigued by Staci's story. They were created by www.mainely-wraps.com. We highly recommend their services. They were by far the best priced and the most professional of everywhere we looked.
For more information about Mainely Wraps, please see the following Web site: www.mainely-wraps.com
TO OBTAIN STICKERS, KEYCHAINS, OR BOOKMARKERS, PLEASE EMAIL STACISTORYMOM@YAHOO.COM.
ALL MEMORABELIA IS AVAILABLE FOR A MINOR DONATION TO "The Staci Stephens Fund, Inc."
The Stephens family is grateful to Dr. Ross Taddeo, Staci's Orthodontist. We absolutely love Dr. Taddeo!! Staci has such a beautiful smile!! Thank You Dr. Taddeo!!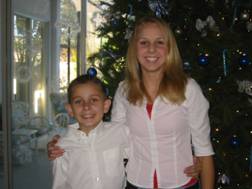 For more information about this awesome orthodontist, please see:
Scott Phelps, Excel Workbook - Scott Phelps is the creator of the Christian based EXCEL program, which encourages readers to resist the world's pressure towards sexual activity by drawing near to the Lord. This program encourages youth to resist the desire to live for self and choose instead to live for the glory of God. EXCEL is designed for youth groups, Christian schools, and pregnancy care centers reaching grades 9-12. Excel encourages and facilitates parental participation. Staci's Legacy is featured in Chapter 8 titled, "The Big Picture." Also, the DVD, A Heart to Change, The Staci Stephens' Story is included in copies of the Leader's Guide.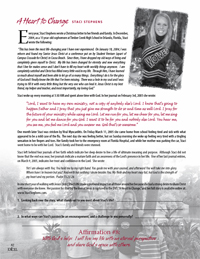 Click here to see page 82 of the EXCEL Book where Staci is Featured
Staci did not know Scott Phelps or about the Excel program. However, Staci's Mom randomly went to Crossway Community Church one Sunday morning for church. Scott Phelps was giving his message and discussed the EXCEL book. This book is a faith-based workbook that discusses God's word on saving yourself for marriage. EXCEL really described Staci's way of living. She was adamant about saving herself for marriage and shared Gods word with others about living the right way. We support what Scott Phelps is doing and preaches throughout the United States.
Scott Phelps has worked with youth in San Francisco and Chicago and each year speaks to thousands of teens around the country on the benefits of abstinence until marriage. He provides training seminars nationally to help educators and parents effectively communicate the message of abstinence to teens. His career is dedicated to helping today's teens to resist negative pressures and make good decisions for their lives.

Scott Phelps
Click here to read more about this exciting program.
http://www.abstinenceandmarriage.com/index.html
Christianmemorials.com offers a Christian forum for remembering loved ones or sharing an exemplary life for the purpose of encouraging and edifying others. Staci's legacy is reflected on the home page of the site and we continually see countless messages from lives changed from all over the world! The site allows you to post candles and flowers in memory of Staci.
Click here to see this tribute to Staci: www.christianmemorials.com 

Abigail Verna Glaser
Abby Glaser – Staci's legacy has been featured in the Abby Glaser memorial run held in Kansas City for victims of Viral Myocarditis and sudden cardiac death in children. Abby passed away in 2001 at age 5. Over $85,000 has been raised towards this deadly virus in her memory.
2007 - The web site reflects a beautiful tribute to Staci and her life.
Click here to view the tribute:
http://www.abbysrun.com/html/2007_tribute_7.html

2006 - Abby's Run creates a memory book in Honor of Abby. Staci was featured in the book.
Click here to view the tribute book: part 1; part 2

Alyssa Ann Calaway
Memorial hike for Alyssa Callaway who passed from Viral Myocarditis when she was 8 years old. In 2007, Alyssa's hike raised over 25,000 towards Alyssa's legacy. Staci's legacy is reflected in a tribute booklet of victims of viral Myocarditis. 
Lyall Mercer – Evangelist (www.fanintoflame.com)
Lyall Mercer, Evangelist – Lyall came across Staci's web site and was deeply touched by her story. Currently, he tours the US and Canada spreading Jesus' story to many! He continually uses "A Heart to Change, The Staci Stephens Story" DVD in his message and provides many stories of inspiration. He is "The Bald Preacher" on myspace.

I Can Only Imagine (Mercy Me)
Homesick (Mercy Me)
Who Am I? (Casting Crowns)
Cry Out to Jesus (Third Day)
Hold on to Jesus (Erin Odonnel)
If Your Reading This (Tim McGraw)
I'll Wait for You (Joe Nichols)
Fathers and Daughters (John Mayer)
Remember Me (Mark Schultz)
Here without You Baby (Three Doors Down)
Time in a Bottle (Jim Croce)
Little Miss Magic (Jimmy Buffett)
Legacy (Nichole Nordeman)
Spirit Carries On (Dream Theater)
Just Enough Light for the Step I am On (Stormie Omartian)
Blue Like Jazz (Donald Miller, Staci's Favorite)
Where the Red Fern Grows (Wilson Rawls – Staci's Favorite)
Live Like A Jesus Freak (Staci's Favorite)
The Art of Saying Goodbye (Arthur Samuels)
Your Best Life Now (Joel Osteen)
Become a Better You (Joel Osteen)
Heaven (Randy Alcorn)
One Minute After You Die (Erwin Lutzer)
Heaven Your Real Home (Joni Eareckson Tada)
A Grief Observed (C. S. Lewis)
The King and I (Nancy W. Wilson)
Get Out of That Pit (Beth Moore)
If you would like to donate to "The Staci Stephens Fund, Inc.," a tax-deductible 501(c)3 Non-Profit Organization.
To donate via Paypal, Click Here: